Sitges is...

...located only 30 minutes away from Barcelona, and it's easily connected by car, train, taxi or bus.
300 sunny days per year, 26 beaches, 3 sportive harbours, 5 museums, 1 natural Park, 1 golf course, more than 5.000 rooms in hotels, 29.000 citizens from more than 90 nationalities, more than 400 restaurants and shops, etc
How far is Sitges from the airport?
When you get off the plane there is an easy way to get to Sitges
By car
Barcelona Airport is about 25km away from Sitges. A taxi ride would take about 25 minutes, with an estimated cost of €40.00 - €50.00.
By public transport
BUS
The Monbus bus service is available at Barcelona Airport. This bus will drop you off in Sitges city centre. Monobus runs every 30 minutes and its stop is located outside terminal 1. It has a cost of 3.60 € (one way). The journey takes less than 30 minutes. You can check the Monbus timetable at www.monbus.cat. The Melia Hotel is about 15 minutes away walking from Stiges City Centre and 2 minutes away by taxi (with an estimated cost of 5 €).
TRAIN
No direct train is available from Barcelona Airport to Sitges. But the PR1 goes from the terminal to the train station of El Prat de Llobregat, where you can catch the train (R2S) in direction of Vilanova i La Geltrú. Only 45 minutes later you should be arriving to Sitges.
Getting to Sitges from Barcelona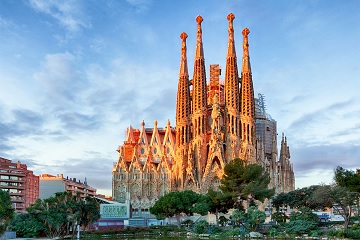 Transportation by Taxi and Train
There are various options for getting to Sitges from the city of Barcelona. If you are travelling in the day you are most likely to wish to travel by train - the cheapest and quickest option.
Getting to Sitges from Barcelona by Taxi
Sitges is located approximately 40 km south of Barcelona. A taxi journey will take about 30 minutes.
Taxi fare: €75.00 - €85.00
Getting to Sitges from Barcelona by Train
There are three main train stations in Barcelona that offer a service that runs to Sitges: Estacio de França, Passeig de Gracia and Estacio Sants. The C2 train travels from Franca to Passeig de Gracia to Sants and then on to Sitges. The final destination of the train is either Vilanova i la Geltru or St. Vincenç de Calders - these are the names that you should be searching for on departure boards and on the front of the train rather than Sitges.
Trains to Sitges from Barcelona run approximately every twenty minutes, starting at (from Estacio de França) and finishing at (Barcelona Sants). The journey lasts 46 minutes from Estacio de França, 37 minutes from Passeig de Gracia and 30 minutes from Estacio Sants.
History and culture of Sitges

History
The name Sitges comes from "Sitja", a pre- Roman word that means "deep hole or silo".
Even before the Neolithic period, the first Sitgetans lived in the area known as the "cave point" (past the Terramar golf course) and the La Punta Hill, where the church and Town Hall are today.
In the 18th century Catalonia obtained permission to trade directly with America. Only now the economy was in the hands of those trading in America (the Americanos period), who would return with their fortunes and purchase or repair the village's old houses.
The town became a summer resort for the Sitgetan Americanos. As early as 1879, there are records showing that baths were already being used as medicinal therapy and spa enthusiasts directly became beach enthusiasts (1888).
Sitges, situated near Barcelona, although still hard to access at the time, and a summer resort for many Sitgetan-Americanos, became a town for taking the waters. With the arrival of Santiago Rusiñol in 1891 Sitges became the cultural center of the modernistes. In 1909, thanks to Ramon Casas and Miquel Utrillo, Sitges was visited by Charles Deering, a North American millionaire who converted Fonollar street, with its characteristic fishermen's homes and the old hospital, into a palace. The Palau Maricel and Cau Ferrat (Rusiñol's house-cum-studio) became two culturally-attracting
poles. Some years later, industrialist Francesc Armengol designed the Terramar garden city and the Passeig Maritim or Esplanade. Atracción de Forasteros (Tourist Attraction Company) was created in 1928 and the Tourist Information Office in 1934. From then on, Sitges would become a European tourism standard sette.
Culture
Sitges is a coastal town that has always known how to protect its cultural and artistic values. The remains of the old medieval village are mixed with the legacy of the Americanos, the men and women who, returning with their fortunes from their American adventure, had large mansions built for themselves. In Sitges, there is still an air of the bohemian atmosphere inherited from versatile artist Santiago Rusiñol, who transformed it into the Mecca of Modernism. Since then, the town has aroused diverse artists and painter's interest, and today there is still a community of artists living here who exhibit their pieces at their workshops.
Since time immemorial, the town has attracted the interest artists and painters, and even today there is a whole colony of artists here who display their artwork at their studios. To discover its cultural wealth, all you have to do is take a walk around the streets in the center of town, the old city or the seafront promenade. And if you'd like to explore it more in depth, you can take a guided tour along the route of the Americanos (Spaniards who returned to Spain after making their fortune in Latin America) or the Modernism route. Another excellent option is visiting its 4 museums; Cau Ferrat, Maricel Palace, Can Llopis Romanticism and the Pere Stämpfli Foundation.