Welcome to Sitges... a true Mediterranean Pearl!
Located between the sea and the mountains, the city of Sitges offers a wide variety of leisure activities to visitors. The Coast of Garraf, on the Mediterranean sea and the surrounding mountains, provide a beautiful natural setting to this town.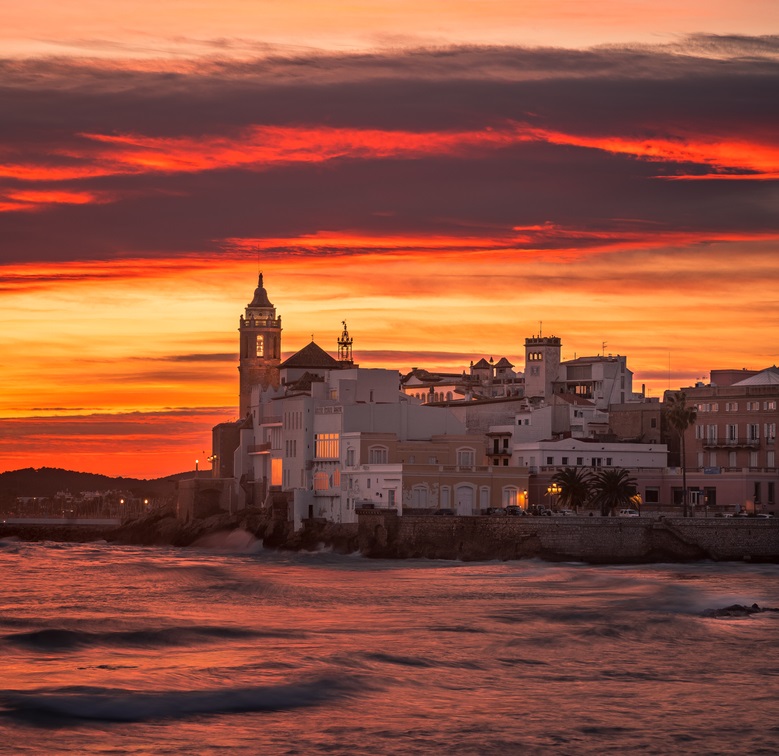 Travel and Transportation
Barcelona Airport, commonly known as "El Prat Airport" is the second largest airport in Spain and just a 25 Minutes drive away from Sitges. Most scheduled flights operate from Terminal 1.
Bus/Taxi: There are coaches that run directly from Barcelona Airport to Sitges. The Bus Garraf runs from outside Terminal 1 (T1). However, the most convenient and quite affordable way to reach your hotel in Sitges from the airport is by Taxi. The cost is approx. 50 Euros and the trip takes 25 minutes. Tip: Try to share a taxi between 2 or 3 parties to reduce transportation cost.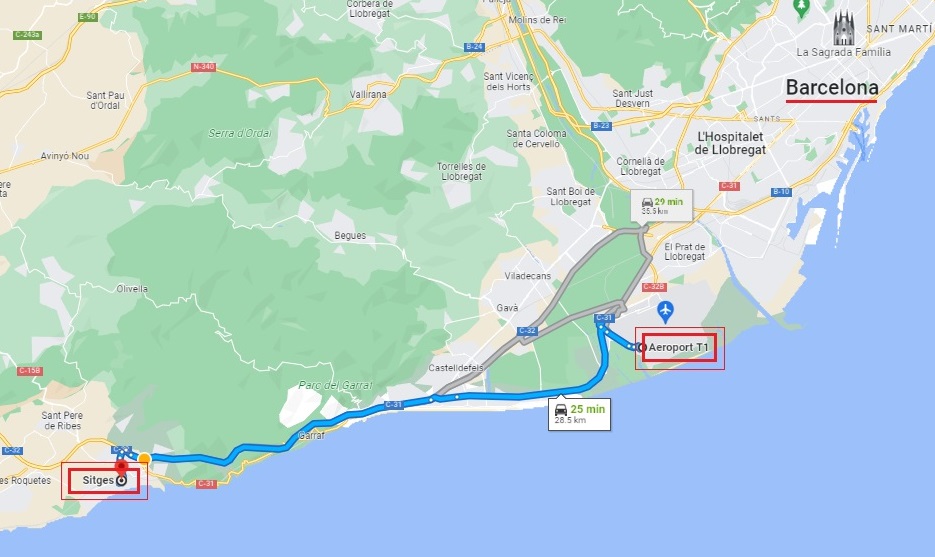 Rail: Sitges has excellent suburban train connections with Barcelona City and Tarragona. But there is no direct train from the Airport to Sitges, so you can take the Barcelona Airport Train – the C2 to Estacio Sants. Here you need to change train. From Estacio Sants there are numerous trains to Sitges.
Getting to Sitges from Barcelona
Getting to Sitges from Barcelona by Taxi
Sitges is located approximately 40 km south of Barcelona. A taxi journey will take about 30 minutes.
Taxi fare: €75.00 aprox
Getting to Sitges from Barcelona by Train
There are three main train stations in Barcelona that offer a service that runs to Sitges: Estacio de França, Passeig de Gracia and Estacio Sants. The C2 train travels from Franca to Passeig de Gracia to Sants and then on to Sitges. The final destination of the train is either Vilanova i la Geltru or St. Vincenç de Calders - these are the names that you should be searching for on departure boards and on the front of the train rather than Sitges.
Trains to Sitges from Barcelona run approximately every twenty minutes, starting at (from Estacio de França) and finishing at (Barcelona Sants). The journey lasts 46 minutes from Estacio de França, 37 minutes from Passeig de Gracia and 30 minutes from Estacio Sants.